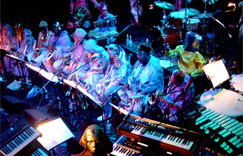 London Evening Standard

Wednesday 11 March 2009 Jerry Dammers Spatial A.K.A. Orchestra
Barbican Hall, Barbican Centre, Silk Street, EC2Y 8DS

The ex-Specials man performs a tribute to jazz eccentric Sun Ra.
Wild night with Jerry Dammers
Jack Massarik
A wild night began with a synthesised bang and climaxed with the band trooping through the lobby, still playing at full blast. A watching TV producer hopes to film them, a break this outlandish 18-piece outfit deserves. Most jazz groups are visually uninteresting. Not the space-suited Jerry Dammers and his masked and costumed inter-galactic rascals.
Their inspiration is Sun Ra, the iconic bandleader whose "Space is the Place" agenda gave jazz a theatrical dimension that liberated players spiritually. Dammers's background is more ska than jazz, yet he comes closer than anyone to recreating the iron team-spirit and rugged grandeur of Sun Ra's sprawling Arkestra.
Dedicated to "mavericks and mystics on the fringes of jazz", his set included themes by Moondog (Bird's Lament) and Alice Coltrane (Journey to an Unknown Land) as well as Arkestra favourites such as Nuclear War. Ragged as these arrangements sometimes became, the ensemble never stopped swinging and the solo quality was high. 
Reliable freelances Finn Peters (flute), Denys Baptiste, Jason Yarde and Nathaniel Facey (saxes) did not disappoint but genuinely weird artists like Larry Stabbbins (tenor sax) and Francine Luce (vocals) sounded most at home. Francine's artfully birdlike cries were brilliant. Where has she been?
My only complaints were that too many soloists remained seated, and the delightful Zoe Rahman, somehow managing to look slim even in a spacesuit, was not given a proper keyboard solo until the closing minutes.
chatgpt investment track followers instagram what does gucci sell prada painting prada boot prada pr08ys gucci germany gucci group scrape instagram followers instagram block followers active instagram followers prada 18wv mia k collection makeup fx gg clothing brand saks prada shoes bondy's prada watch ladies prada sandles prada bag cost prada crossbody strap aeropostale premium outlets prada lug boots prada metallic bag make a wig designer clothes outlet gucci uae premium shops comprar followers instagram instagram followers gratis lebron instagram followers chatgpt openapi sosa gucci prada gucci shoes and bags vintage prada sneakers fendi clearance outlet prada sequin dress lila hayes nude instagram 100 followers carlucci chicago prada odette bag instagram anonymous followers delta kayaks delta 12.10 kayak prada chest bag burberry outlets online banana republic premium outlets followers instagram buy prada designer shoes instagram followers 200 prada bucket challenge garth brooks maria christmas song suede prada bag prada chess set prada shoelaces gucci america inc restaurants near 60018 ugg discount outlets chatgpt trial chatgpt founders prada eyewear man chatgpt trading bot limitations of chatgpt cheap prada instagram followers legit prada midnight train emilio pucci outlet prada saffiano tote prada law prada shoes boots prada brown purse chatgpt for windows prada shopping tote carlucci's rosemont sabrina designs arche shoes outlet followers instagram 5000 fabric covered cork boards prada green glasses brown goatee ember fine jewelry prada back pack prada men's trainers weird spiky fruit gucci com outlet outlet mall online shopping prada large backpack prada winter boots